Cluckin' "A" Critter Farm, LLC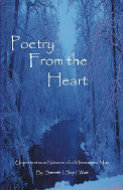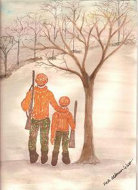 Here is a grest book about a young boy back in 1963 when times were tough and hunting was a mainstay for putting food on many a family table. The story is about turning that magic age of twelve when you can join in on the annual buck hunting tradition in an area of central Pennsylvania. This story starts at the boy's twelfth birthday and encompasses the next three years of his hunting life. It ends in the present day with many reflections about family, fun and tradition missing from so many present day lives. The story line is so vivid and descriptive that you will be drawn into the actual story as though you were there in 1963 as the story unfolds.
This eBook will be delivered to your email address upon the payment of:
This ebook is designed for the person that would like to sell items on eBay but thought it would be too hard to accomplish.......After all, who do you ask for help, what should you look out for or be cautious of?
This eBook will walk you through creating an eBay account, a Pay-Pal account and step-by- step directions to list that first item for sale. It even covers what needs to be done after the sale is made. It guides you to make sure your payment is received and covers the easiest ways to ship and pay postage from home.
This book will be delivered to your email address upon the payment of:
Here is the my home electrical eBook. I'm sure you will find it interesting and very helpful when it is time to start into your first home electrical repair adventure. I will safely guide you through all the simple repairs necessary to save you money, retain your sanity and make you happy. Have you ever had the opportunity to call for a repair of the porch light that wouldn't come on? After you told the guy that you tried replacing the bulb and that didn't help, you see that the guy is now smiling and thinking to himself about how much money he can suck out of you before he has to come clean and replace the switch. I've seen electricians bleed senior citizens of their monthly check on this one! Don't let it happen to you!!
This eBook will be delivered to your email address upon the payment of:
The above eBooks will be sent to you by email in either PDF or Word document. It is your choice. I will email you prior to sending the book to confirm how you would like it to be sent. The poetry book is paperback and will be sent in an envelope.
Skip's Books
"Welcome to "Poetry from the Heart, The Unpretentious Notions of a Minimalistic Man". This collection of my works will transport you into the early morning hours…to a very tranquil time, when the only company you will have is the illuminating gray of pre-dawn and your own heartbeat. Feel the wonder experienced in such a time and place, where you are the only visitor and the host, in touch with yourself in solitude, where you can look and feel within yourself. Here…you will be drawn into the feelings and notions which I have about life and the world around us. I hope you will relax and ride along on the magic carpet of emotion, thought, joy and sometimes anger at the wonders of the world we live in." S. Watt
This 72 page collection of various poems was written over the course of four years and was published in 2009 by Skip himself. Vicki, his wife, created all the artwork within the book.
Coming Soon......to Kindle eBooks
Note...These books are all available for Kindle at amazon.com
Skip has other literary works in progress....the next is the story of how he and Vicki met...got closer aand finally began the poultry and fiber farm they now run and enjoy. Another book in the works is the story of Skip's childhood and growning up in an old ore mining town in central Pennsylvania.
There are others that are in the fictional realm of his Indian ancestry that he is working on too. Watch for them here.......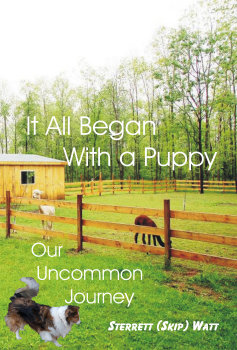 A Story of a Woman, a Man, Four Dogs, Some Land and Their Dreams... This story begins somewhere in the fall of 2004 and tells of two middle aged people that were afforded the chance to start a new life in an upstate, New York farming area, with four dogs, a piece of land and their wildest dreams. First they were acquaintances, through the sale of a puppy....Skip the breeder; Vicki...the person looking for a puppy to fill the hole in her heart left when Millie died earlier. A friendship developed as the puppy grew and Vick's husband Carl's cancer worsened. After Carl died, Vick sold her New Jersey home and found a nine acre property in upstate New York and asked if Skip would visit to inspect the house before buying it. He agreed and the story begins...and hasn't ended yet.
Available soon...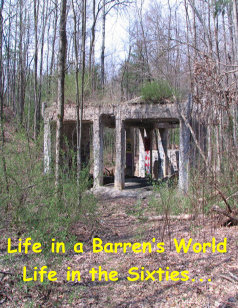 Back in the sixties...life was different. It was a diverse era with extraordinary values and surprising interests...there was little money, with less value, so life was tough...but life was good.
Marysville was located in Centre County, Pennsylvania ...next to the Scotia Barrens...a 6,200 acre plot encompassing some twenty-five square miles of pitch pine and scrub oak. There were several hundred acres of privately and commercially owned land next to that, which created an endless playground for the kids of the local residents. I was one of those kids and in this book, I am recounting some of the more memorable moments of my childhood as we enjoyed "Life in a Barren's World."
Available NOW...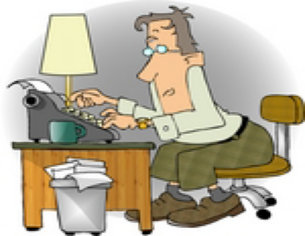 Cluckin' "A" Critter Farm, LLC